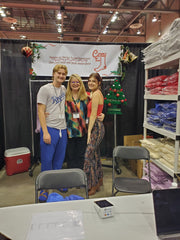 Cozy Toes
Cozy Toes is a family owned business, that strives to bring warmth and comfort to all. Created by two brothers on a cold morning, Cozy Toes has continued to grow every year, bringing the best lounging experience to people across the world via our sherpa lined footed sweatpants.
We are committed to our customers and to ourselves, to always keep innovating our products based off everyone's wants and needs. Here at Cozy Toes, we take pride in providing the ultimate pair of comfort clothing - lounge pants with feet.
The Cozy Toes team is more than thankful for our customers and the support we receive from them, and we pledge to always uphold the best customer service we can provide!